Meet The Owners
Get To Know Dream Home Construction
When we started the company, we set out with a simple goal: to be the best home remodeler in the Cleveland area. To achieve this goal, we knew that quality, creativity, and client care were keys to success. "Is there a better way to do this?" became our guiding principle. Even today, we are constantly seeking ways to improve our company level of quality from top to bottom.
We are "hands-on" owners, and our clients know that they will always be able to talk to one of us if a problem arises. We always tell our clients to get five bids, take the most expensive and least expensive and throw those away. With those that remain, check references, check with your city to see if they are registered contractors, and finally, always go with the company with whom you feel most comfortable.
Frequently Asked Questions
How many people does your company employ?
We have 5 in house employees and approximately 30 subcontractors.
How long have you been in business?
We have been in business since 1993.
What prompted you to start your own business?
Scott has always been intrigued on building things and has a passion for woodwork and home remodeling. He wanted to give customers quality work at a reasonable price.
In what section of the neighborhood do you live, and how long have you lived in the neighborhood?
We have lived in Chardon for 26 years. Before that, we lived in Highland Hts., for 10 years.
Describe what your company does.
We are a home remodeling company that does everything from repairs to additions and everything in-between. We also specialize in kitchen and bath remodels.
Anything Extraordinary / unique that your company does?
Dream Home Construction will take the stress out of remodeling. We will give you the confidence you need to get through your remodel. We complete our work in a timely manner, providing you award winning workmanship at a reasonable price. Customer satisfaction is our #1 priority.
How did you decide on this industry (events that led up to now, where you went to school, etc.)?
Scott's family has always been in the construction field. He wanted to start his own company, knowing that if you can work hard, you can achieve anything.
What are your hobbies/interests?
One of our main hobbies is hot rod cars; we collect cars and (re)build them. Scott and our son built a 1955 Ford F100 truck from the ground up! We love going to car shows, spending time as a family, boating, and fishing at our cottage. Our family has been involved with Cub Scouts and Boy Scouts for the past 10 years. We enjoy spending the time with our son, Matthew, who became an Eagle Scout in December 2016. Working with the boys has given us satisfaction, knowing that we were helping to motivate them to become respectable young men, and develop positive values that will carry over into their adult careers. We are still involved with the Eagle Scout projects. We believe it takes a village to help one another and have been helping the Santa Hide Away (more information on this is available at the website).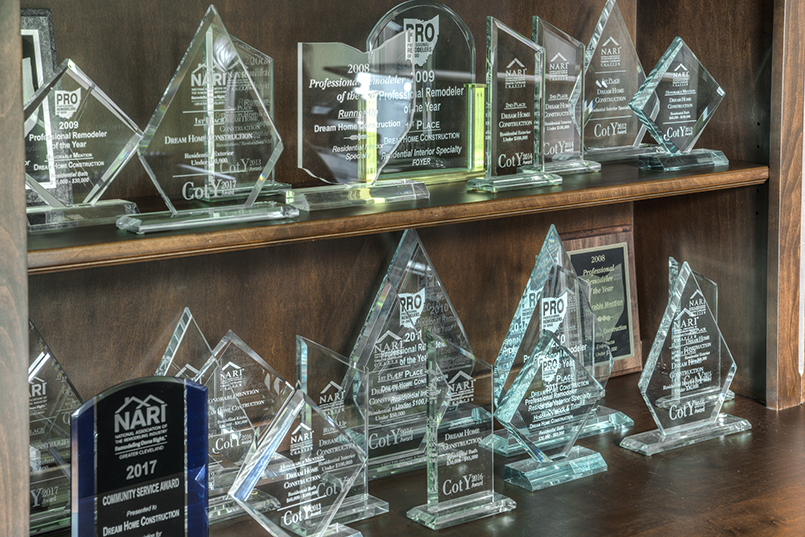 Awards & Recognitions
2017, 2019: Honored at NARI in March for involvement in Community Service
2017, 2018: Living Well/A Cleveland Magazine Best Remodeler
2010, 2011, 2012: Cleveland Best of the East
Ongoing: NARI Professional Remodeler of the Year award – 19 years