Meet The Owners
Get To Know Dream Home Construction
When we started the company, we set out with a simple goal: to be the best home remodeler in the Cleveland area. To achieve this goal, we knew that quality, creativity, and client care were keys to success. "Is there a better way to do this?" became our guiding principle. Even today, we are constantly seeking ways to improve our company level of quality from top to bottom.
We are "hands-on" owners, and our clients know that they will always be able to talk to one of us if a problem arises. We always tell our clients to get five bids, take the most expensive and least expensive and throw those away. With those that remain, check references, check with your city to see if they are registered contractors, and finally, always go with the company with whom you feel most comfortable.
Frequently Asked Questions
How many people does your company employ?
We have 5 in house employees and approximately 30 subcontractors.
How long have you been in business?
We have been in business since 1993.
What prompted you to start your own business?
Scott has always been intrigued on building things and has a passion for woodwork and home remodeling. He wanted to give customers quality work at a reasonable price.
In what section of the neighborhood do you live, and how long have you lived in the neighborhood?
We have lived in Chardon for 26 years. Before that, we lived in Highland Hts., for 10 years.
Describe what your company does.
We are a home remodeling company that does everything from repairs to additions and everything in-between. We also specialize in kitchen and bath remodels.
Anything Extraordinary / unique that your company does?
Dream Home Construction will take the stress out of remodeling. We will give you the confidence you need to get through your remodel. We complete our work in a timely manner, providing you award winning workmanship at a reasonable price. Customer satisfaction is our #1 priority.
How did you decide on this industry (events that led up to now, where you went to school, etc.)?
Scott's family has always been in the construction field. He wanted to start his own company, knowing that if you can work hard, you can achieve anything.
What are your hobbies/interests?
One of our main hobbies is hot rod cars; we collect cars and (re)build them. Scott and our son built a 1955 Ford F100 truck from the ground up! We love going to car shows, spending time as a family, boating, and fishing at our cottage. Our family has been involved with Cub Scouts and Boy Scouts for the past 10 years. We enjoy spending the time with our son, Matthew, who became an Eagle Scout in December 2016. Working with the boys has given us satisfaction, knowing that we were helping to motivate them to become respectable young men, and develop positive values that will carry over into their adult careers. We are still involved with the Eagle Scout projects. We believe it takes a village to help one another and have been helping the Santa Hide Away (more information on this is available at the website).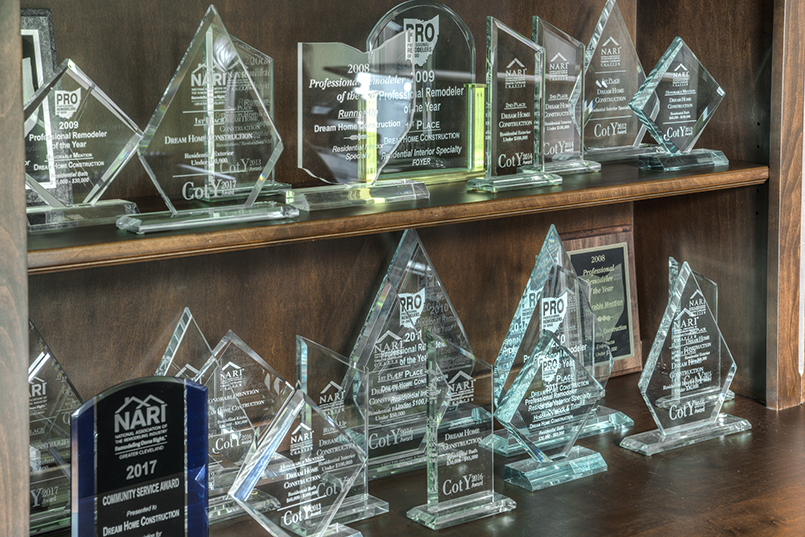 Awards & Recognitions
2017, 2019: Honored at NARI in March for involvement in Community Service
2017, 2018: Living Well/A Cleveland Magazine Best Remodeler
2010, 2011, 2012: Cleveland Best of the East
Ongoing: NARI Professional Remodeler of the Year award – 19 years
What Our Customers Say
The Bathroom looks great! What a beautiful transition!!
Our new garage addition is perfect for our new car, all of our friends and family can't believe that you were able to tie the new addition in and make it look like it's always been there.
Scott,
We love the work you have done with our attic renovation and outside projects. We could not be happier with the finished product – a library and home office that we can be proud of and enjoy for many years to come!
It is always fun to enjoy the outcome. Almost makes us want to buy another home and work on another basement.
Dear Scott,
I've never had a workman do for me what you did the other day – with regard to the garage door opener. Your integrity with regard to your work speaks volumes about your character as a person. You have my vote!
I think the masonry rebuild of my front stoop is the best rebuilding of a stoop I have seen in my neighborhood in years. Some days, I just go outside and admire it. Scott and Matthew have made it look like it is the original seventy-year-old front entrance with all the original stonework, but the masonry is new and strong.
Scott and his family team are totally "The Best". Send me the bill. You are worth every penny! Thanks again, Nancy
Just wanted to say thank you for making a dream become a reality. We love our porch! Than you for sticking with us.
Thank you for a great job.
Thank you for the glamorous bathroom, Your outstanding work has completed our home.
We wanted to thank you for making this 100 year old house a true show place! We have been fortunate to count you as a passionate craftsman and friends.
Thanks for a great job you did in our home.  And Scott and Matt coming back to work on our crazy kitchen electrical. You are all great!
Scott,
I had to write you to thank you for yet another wonderful job, renovating and remodeling our 1922-era home. When we decided to remodel the basement this summer, we didn't hesitate in calling you.
Scott & Yvonne,
We are very pleased with all the work! After many disappointing experiences , we can hardly believe we found a contractor that works within a stated time frame and truly cares about the quality of the work right down to the most minute details!
It has been a pleasure working with you both over the last 17 years.  Thank you for your dedication to detail and your integrity to your craft.  We both feel so blessed to have you in our lives and our home.
We are very pleased with all the work!  After many disappointing experiences, we can hardly believe we found a contractor that works within a stated time frame and truly cares about the quality of the work right from the most minute details!  You really helped mitigate the stress of having the kitchen redone and your supervision of subcontractors was very much appreciated!
Thank you for the wonderful job you did on my cottage. It's been such a pleasure working with you and your crew again. I love my fireplace, seeing my Great Grandfather's Rifle gives me a lot of pride!
Thanks so much! The roof looks fantastic. Your staff are a pleasure to have around..
Thank you for kindness and dedication is what makes you such wonderful people.
Best Wishes
Professionalism, Punctuality, Quality, Responsiveness, Value
Scott and Yvonne of Dream Home Construction remodeled our kitchen and were simply amazing. They transformed an inefficient and unattractive space into a beautiful and actually usable kitchen. They've had years of experience and so guided us through the process, did careful and professional work, and communicated with us at every stage. We could not be happier with both the process and how it turned out.
After remodeling was complete, the beautiful kitchen became the center of activity in my home. I proud to bring guests into my kitchen.  Dream Home Construction exceeded my expectations in all areas of planning and execution.
Beautiful job on our kitchen and bathroom. You have exceeded our expiation on a construction company. The staff has such a great knowledge and work detail and your integrity with regards to your work speak volumes about your character as a person. Our kitchen and bath  are truly a dream come true! We have  been showing it off to all our friends and family.
We wanted to emphasize how very much we appreciate your willingness to interrupt an extremely full schedule to help us out after Sally's pelvic fracture. She is doing very well and you certainly contributed to this!! Thanks to the grab bars, she has been able to confidently take showers, and thanks to the extra railings, she has been able to get up and down the stairs. We don't know how we would have managed without these, your help has been invaluable. Thanks and best wishes
Thanks for all the great work you've done for us this summer and in years past.  The craftsmanship is always top-notch, and we so appreciate the personal touch.  We have had many people ask us about your services because of the sign in the front yard and we always give you a great recommendation!
Thank you for the beautiful railing on my second-floor porch.
My Kitchen is a dream kitchen thanks to the Dream Home team!
I love my new bedroom! I cannot tell you how smart I was to ask you again to tackle "This Old House" for a renovation. It is my castle and I now love ALL OF IT!
We never had a single worry or doubt about the quality of the work, timeless of the job, or professionalism of all concerned parties. One of the most amazing aspects of the work Scott Burton orchestrated was the time in which it was completed. From start to finish, Scott ran an honest, driven, through, professional and openly I recommend his expertise and company without reservation.
Scott, You're the best!! My new in-law suite is perfect for my Mother in law. She is enjoying very much.
I'm so very pleased with everything and so grateful for your help (all the little things including the animal nest).
Scott, Yvonne and Matthew,
Once again, you've taken a rough stone and turned it into an absolute gem. The breezeway is stunning, and I'll send you some photos of the lights at night. Your attention to detail is absolutely top-notch. You work beautifully as a team, and if you don't always FEEL like a beautiful team, you sure do hide it well! 😉
Thank you so much for all of your attention to leaving your workspace and finished projects so clean. We notice and appreciate it. To walk into the breezeway this evening after a LONG day of driving through torrential rain, I felt like I was walking into a spa. Think back to the initial room, with the bright yellow, and teal, and vivid green…with a mustard-yellow floor…..(according to Jeff, that color scheme was inspired by a kitchen towel he and his partner had)….
We've come a long way!
Thanks again!
Kate (and Rick)
Clara and I would like to extend our gratitude for the way all the folks that we interacted with were not only professional, but kind and thoughtful as well.  We are extremely happy with the way our third- floor remodel turned out and grateful that we found you to do the work.
Please pass along a "thank you" to all the folks that were a part of this process as we are thankful for all their efforts into making the bedroom and bathroom livable again.  Clara really appreciated the small touches with the towels, and we both appreciated finding your note when we took the kids up to show them the renovations.
We will definitely call you with any other remodeling projects that we have in the future.  Please feel free to send other folks our way if they want to see- firsthand- the kind of workmanship that you do.
Scott– Shaker Heights
Thanks again for doing such great work on our lower level. The design of the new family room and all the detailed mill-work makes a real impact when people walk down stairs and the fireplace makes the room seem very warm and homey. Also once again we have a wine cellar that makes a statement. It is Both functional and interesting and the mill-work, stone wall, lighting and slate floor give it a sort of "old world" feel. It makes you want to.. well- drink some good wine! You and the crew were great to work with and it is always fun the enjoy the outcome.
Dream Home Construction did a fantastic job on my foyer I am  thrilled with the new look and very pleased with Dream Home Construction. project.
It's been 5 months since our kitchen was completed.  Dream Home Construction took us through every step of the way. Keeping us in the loop day after day.  In our new kitchen with pride we beam. Thanks to Scott, Yvonne and the Dream Home Team.
We did a large home remodeling including replacing windows, room addition, bathroom renovation, etc. After several disappointing experiences with poor quality or ridiculously expensive contractors, we were so happy to have connected with Dream Home Construction (a family owned/run business by wife/husband Yvonne and Scott). They were appropriately priced, provided incredible value for the expenses, were both professional and friendly, expedient, communicative, and flexible. Over the weeks they worked at our home, they felt like a part of our family and we felt 100% comfortable given them full access to our house. The quality of the work has been above expectations and we have received so many compliments on the renovations. We still stay in touch months after completing the work.
I highly recommend them for home renovations.
I can't not believe that I have this gorgeous basement in my home. I gave you pictures from a magazine and you came up with all the ideas. My family and I could not be happier!
My glamour bathroom is beautiful, thank you for making my dream come true!  Your staff, especially Yvonne has made this remodel very easy for us..
Thanks again for such a wonderful job on my house. I truly appreciate your honesty with me and dedication.